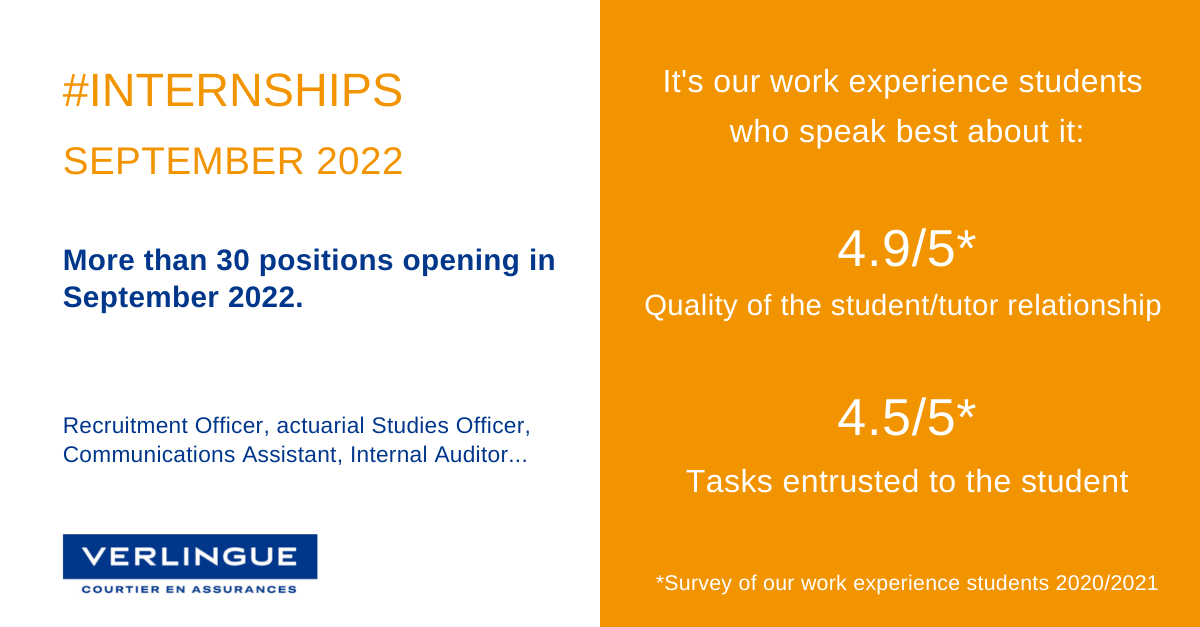 For several years, Verlingue has been welcoming more and more interns, within its business teams, as part of a support and training approach for young talents throughout their studies, through their genuine immersion in the professional sphere with the assistance of a tutor.
"The internship approach is a strategic lever for the anticipation of our recruitment requirements in a context of a shortage of talents. Internship allows for a mutually beneficial three-fold relationship between the business, students and employees." Vianney Haubtmann, Verlingue's Human Resources Manager.
Verlingue is currently looking to fill 30 internship positions for September 2022 in the Sales, Technical, Management, Internal Audit, Information Systems, Actuarial Science, and Communications fields in Quimper, Paris, Nantes, Lille and Mulhouse.
Find the list of open positions for our various sites below:
Quimper:
– Recruitment Officer
– Actuarial Studies Officer
– Borrower Insurance Manager
– Auto Insurance Indemnification Manager
– BI Project Manager
– IT Support Technician
– Internal Auditor
– Management Audit
– General Account Manager
– Executive Assistant
– Communications Assistant
Aix-en-Provence:
– Customer Service Representative
Mulhouse:
– IARD (Fire, Accident and Various Risk Insurance) Consultant
– Customer Service Representative
Nantes:
– Individual Insurance Technical Sales Representative
– IARD (Fire, Accident and Various Risk Insurance) Consultant
– Customer Service Representative
Lille:
– Customer Service Representative
Strasbourg:
Paris:
– IARD (Fire, Accident and Various Risk Insurance) Consultant